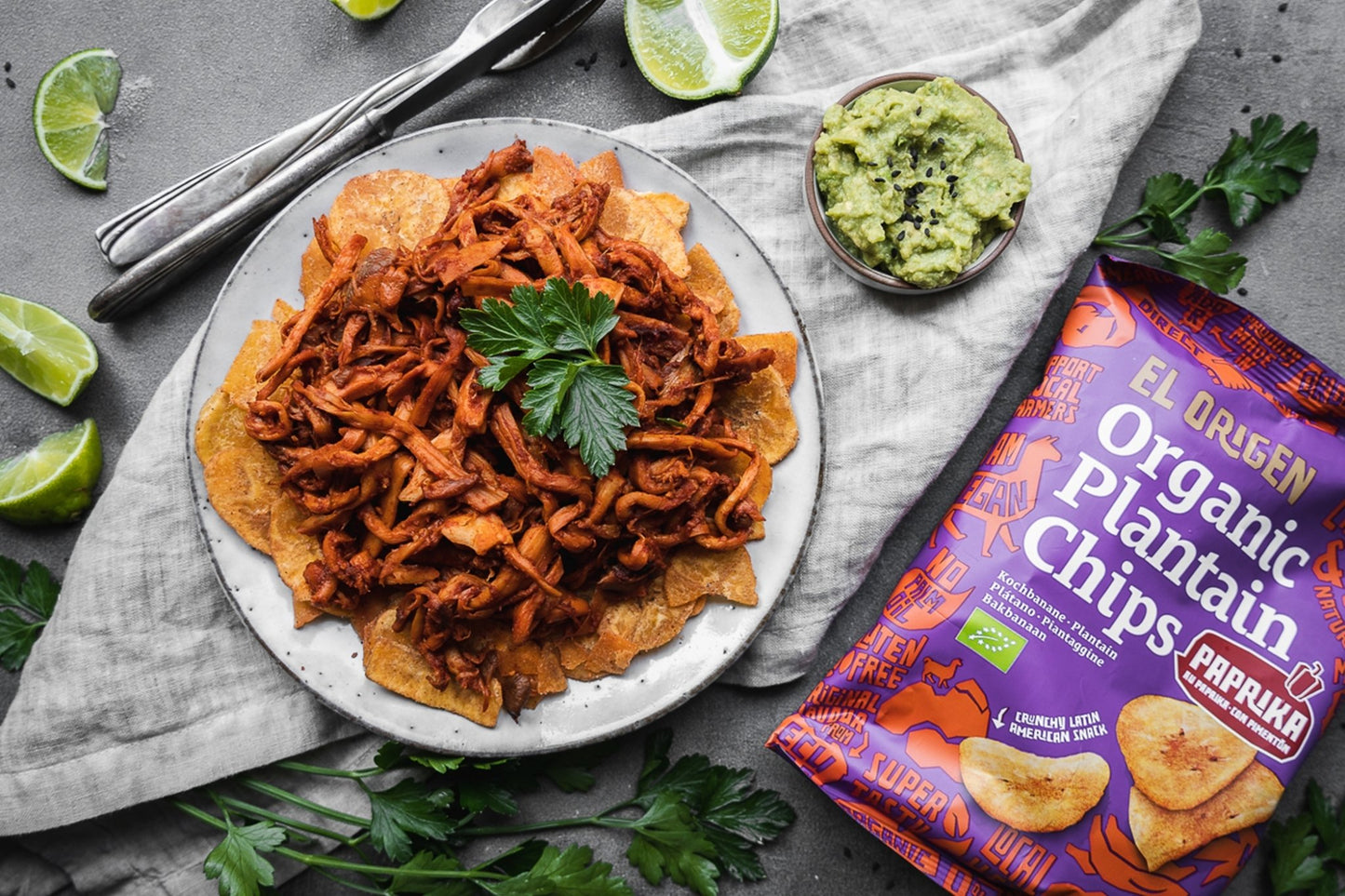 Vegan Food Porn Alert! 🚀🌱
Barbecue style pulled mushrooms on plantain chips
Wow - we are in love with this vegan Pulled Pork variation based on mushrooms by Ken (on Instagram: talesofhorizon) 😍

Here is the recipe for you:

Ingredients for three portions:
1 package of our organic plantain chips Paprika

4 king oyster mushrooms⁠⠀
40ml water⁠⠀
10ml apple cider vinegar⁠⠀
1 teaspoon agave syrup⁠⠀
40g tomato paste⁠⠀
20g mustard⁠⠀
15g of Sriracha⁠⠀
1 teaspoon sweet paprika powder⁠⠀
1 teaspoon paprika powder rose spicy⁠⠀
1/2 teaspoon smoked paprika powder⁠⠀
1 teaspoon garlic powder⁠⠀
1/2 teaspoon salt⁠⠀
Sunflower oil for frying⁠⠀

Garnish: Lime juice, Parsley, Guacamole⁠⠀

How to:⁠⠀
1. Pull the king oyster mushrooms with a fork. Now pluck the individual strands from the⁠⠀
El Origen⁠⠀
mushroom in order to achieve the typical "pulled mushroom" style.⁠⠀
2. Combine all of the remaining ingredients in a large bowl to make a marinade and mix it well⁠⠀
with a whisk.⁠⠀
3. Now add the mushrooms and cover them with the marinade. Let them soak in for 30 minutes.⁠⠀
4. Preheat a pan on medium heat. Keep the the remaining marinade in the bowl. While frying use⁠⠀
a little bit of oil and fry them until they're golden brown. At least 5 minutes.⁠⠀
5. Place the BBQ mushrooms on a plate with the plantain chips and serve with guacamole, fresh⁠ parsley and lime juice.⁠⠀
Bon Appetit!