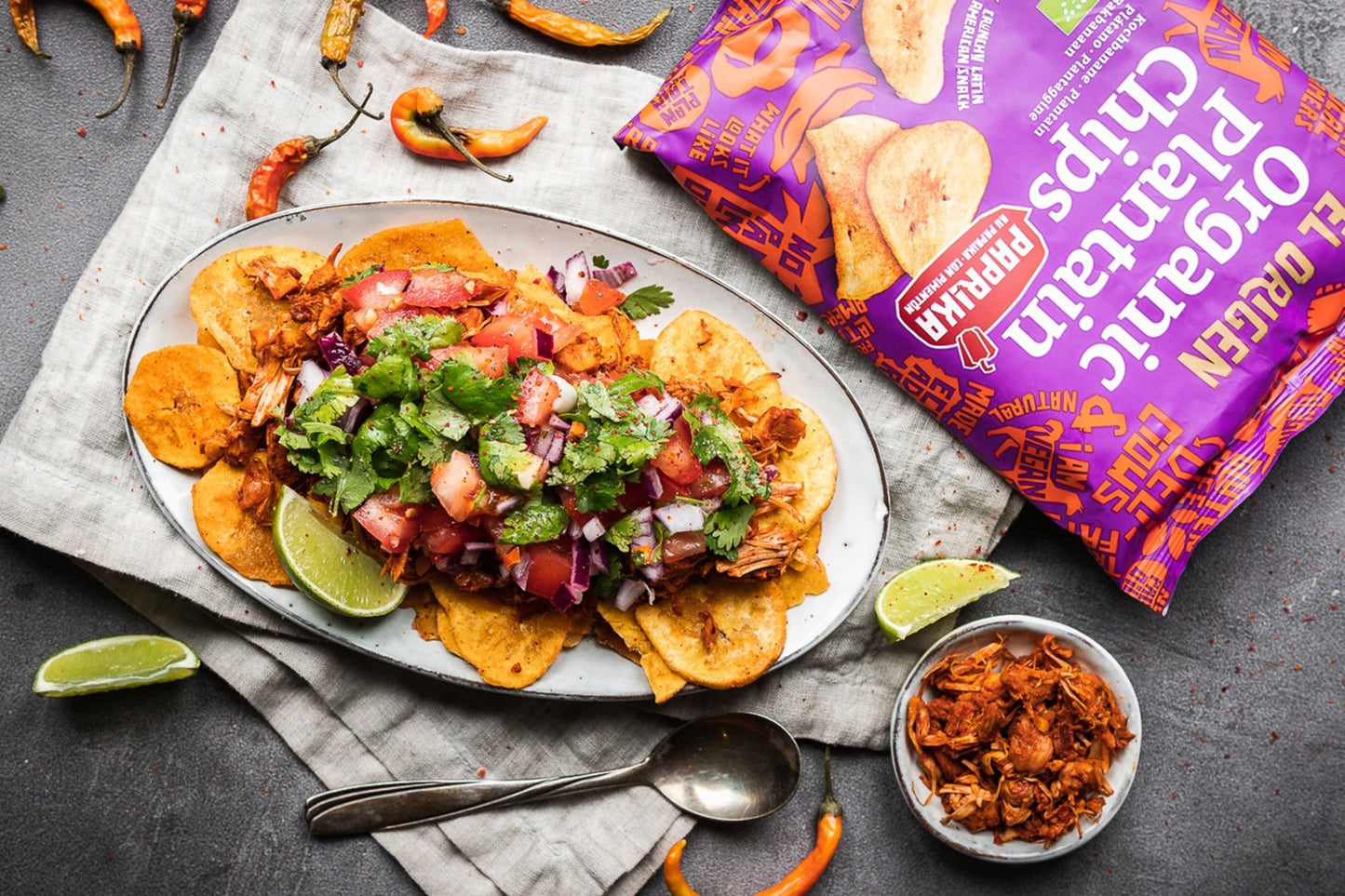 Who wants to start cooking with this dish 😍?
Ken (on Instagram: @talesofhorizon) has cooked this delicious dish with our chips and we are mega excited.
We think every Nacho fan should try this recipe. Convince yourself:

Ingredients for two portions:
1 package of our plantain chips with paprika
For the pico de gallo:
3 big tomatoes
1 small green chili
1 small red onion
1 small bunch of cilantro
1 nice pinch of salt Black pepper
For the jackfruit with barbecue sauce:
2 cloves of garlic
1 small red chili
1 small onion
1 can of young green jackfruit
1 tsp balsamic vinegar
1 tbsp olive oil
1 tsp raw cane sugar
1 tsp sweet paprika powder
1 tsp spicy paprika powder
1 tsp smoked paprika powder
1 tsp cayenne pepper
1 prise salz
1 tbsp tomato puree
How to:
For the pico de gallo cut all the ingredients into small cubes and let it sit in a bowl with salt, pepper, cilantro while you prepare the jackfruit. Drain the can of jackfruit and thoroughly wash it. Heat some olive oil in a pan, add the jackfruit, crushed garlic, a thinly cut small red chili, the balsamic vinegar and a small onion and fry everything up for a few minutes. Now in a separate bowl mix together the barbecue spice mix. Mix cane sugar, all the different paprika powders, cayenne pepper, salt and tomato puree and then pour into the pan and let everything fry for 2-3 more minutes. Plate up the chips, then add the jackfruit and on top the pico de gallo.
Now enjoy this awesome meal!